Overview
PneuMagnetic actuators are drop-in pneumatic magnetic replacements for OEM coils on direct acting solenoid valves. The product provides safe valve operation in any hazardous environment where the presence of electrical power is a safety concern.
PneuMagnetic allows you to forget traditional high cost explosion proof or intrinsically safe installations.
Don't give up the reliability of your original hermetically sealed direct acting solenoid valve, install a PneuMagnetic pneumatic valve actuator on your industrial valve and solve your explosion proof solenoid valve installation problems today.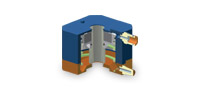 The PneuMagnetic actuator is a self-contained device that provides the same powerful on/off magnetic field as the original coil. More…
Valves converted to PneuMagnetic are operated by an inexpensive air pilot using a small diameter, flexible pneumatic line. More…
Features
NO Electicity
NO Wiring
NO Conduit
NO Barriers
Benefits
Safety
Low cost
Saves time
Saves effort
Valve Applications
Pneumatic Only Control Systems
Petrochemical
Medical
Pharmaceutical
Printing
Food Production